StrokeCog & SCTNI
Joint Conference – 27th November 2020 – Online
StrokeCog, RCSI and SCTNI, supported by HRB are hosting our first virtual conference this Autumn. Join us on the 27th November for a half day of exciting talks and presentations.
StrokeCog Twitter
SCTNI Twitter
Register your interest!

StrokeCog & SCTNI
Joint Conference – 27th November 2020
Thank you for your interest in the Strokecog & SCTNI Conference, 2020.
We are working hard behind the scenes and will update with details soon.
In the meantime, just enter your email address to register your interest and stay up to date with all the latest developments.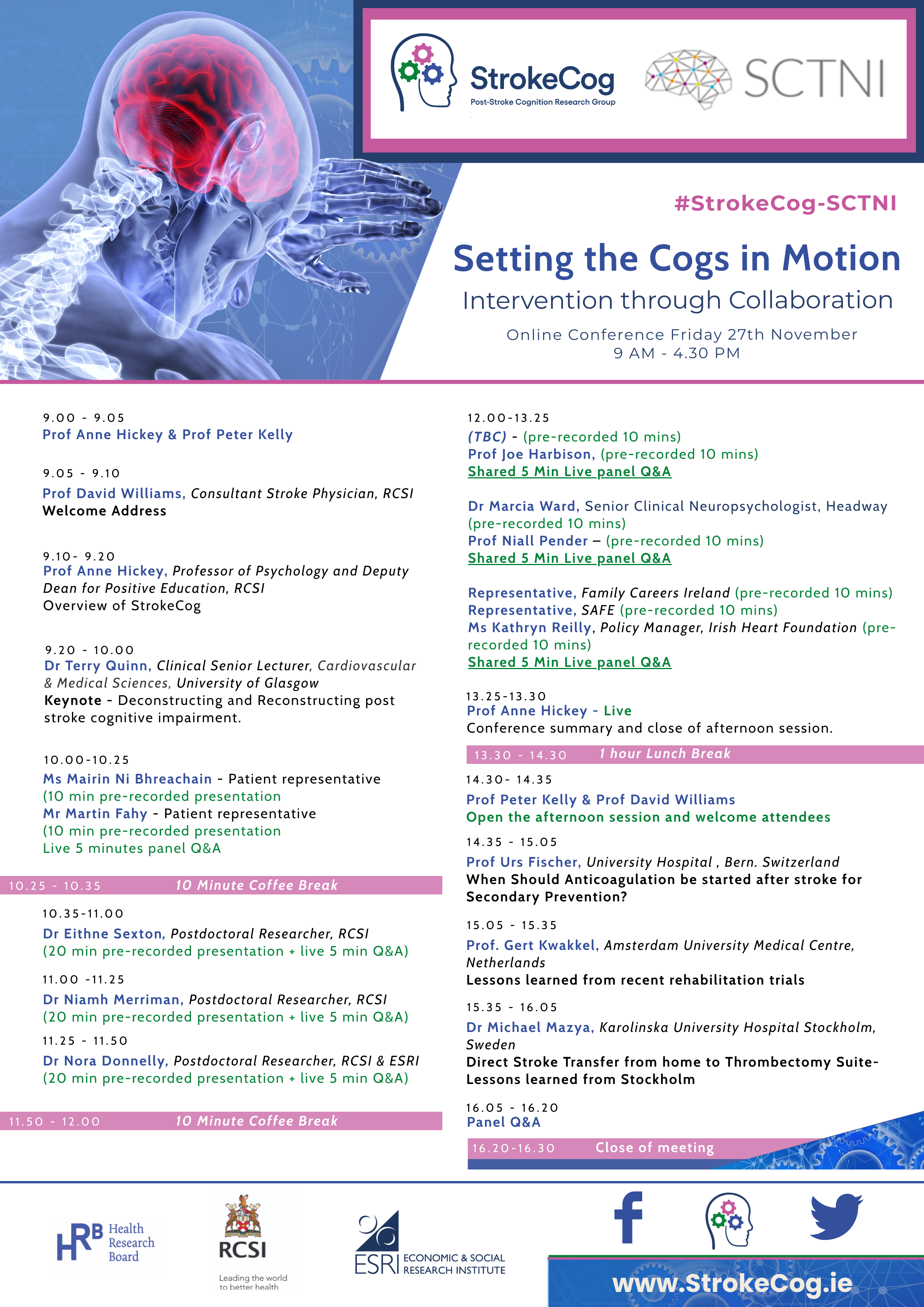 Event Programme
Thank you for your interest in

Setting the Cogs in Motion: Intervention though Collaboration
This event promises to be a great day of exciting talks and presentations from speakers including Professor Terry Quinn, University of Glasgow and Professor Urs Fischer, University Hospital, Bern among many others.

There will be a mix of patient/public, researcher, policy and health-care professional speakers and this is set to be a very interesting event!


Registration is FREE, but places are limited so register early!
View or Download the Programme
#StrokeCog2020 Speakers
Dr Marcia Ward
Senior Clinical Neuropsychologist &
Board Certified Behaviour Analyst.
Cognitive rehabilitation following stroke: The Longer Term Community Perspective
Marcia works in Headway, a community neurorehabilitation service for people with acquired brain injury. Marcia's interests are in neuropsychological evaluation and in supporting people's neuropsychological adjustment to the impact of neurological conditions. She teaches on a number of University courses. Marcia has published research in the area and continues to engage with her clients on research projects to inform neurorehabilitation practices and services.
Dr Nora Donnelly
Post-Doctoral Research Fellow
StrokeCog, RCSI
Cost of Post-Stroke Cognitive Impairment in Ireland
Nora is a Post-Doctoral Research Fellow on the HRB funded StrokeCog study. She holds an MA from the University of Glasgow, MSc from Trinity College Dublin and a PhD in Health Services Research from the Royal College of Surgeons in Ireland. Nora's research interests include ageing and the determinants of healthcare utilisation, particularly the transition to long-term care. Prior to her PhD, Nora worked with the National Centre for the Protection of Older People and the School of Public Health in UCD. She also worked with GOAL for six years evaluating the impact of HIV/AIDS and disability health services.
Dr Terry Quinn
Senior Clinical Lecturer & Honorary Consultant , Institute of Cardiovascular & Medical Sciences, University of Glasgow.
Deconstructing and reconstructing post stroke cognitive impairment
Dr Terry Quinn is Senior Clinical Lecturer and Honorary Consultant based in the Institute of Cardiovascular and Medical Sciences, University of Glasgow.
Terry has a broad research portfolio. Research interests include trial methodology, functional/cognitive assessment and neuropsychological consequences of stroke. He has published over 150 papers with recent titles in BMJ, JAMA and NEJM.
Terry has various editorial board positions, including coordinating editor of the Cochrane Dementia Group. He chairs the stroke psychology SIG of the World Federation of Neuropsychology and is NRS Scotland Lead for Ageing Research. He provides clinical expertise to the Scottish Parliament Heart and Stroke Disease Cross-Party Group and Healthcare Improvement Scotland. Within University of Glasgow, Terry is vice chair of ethics and coordinates the GATE program (Glasgow Academic Training Environment) for clinical academics.
Terry's work has always maintained a clinical focus. He combines research with teaching and clinical commitments in the stroke wards of Glasgow Royal Infirmary.
Email: terry.quinn@glasgow.ac.uk
Twitter: @DrTerryQuinn
URL: http://www.gla.ac.uk/researchinstitutes/icams/staff/terryquinn/